When:
September 25, 2015 @ 12:00 pm – 1:30 pm
2015-09-25T12:00:00+02:00
2015-09-25T13:30:00+02:00
Where:
UNI Rokkan Centre (6 etg)
Nygårdsgaten 5
5015 Bergen
Norway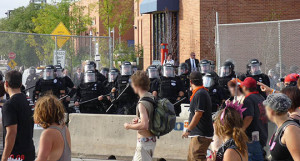 Political protest is an increasingly frequent occurrence in urban public space. During protests, urban space transforms according to special regulatory circumstances abrogating normal laws. Territorial control is central to securitization of urban space. Protest is disruptive of urban spatial relations, so law enforcement considers it a threat conflated with crime and terrorism. The means to achieve spatial control vary by mode of protest policing, which are products of dominant socioeconomic models of society, influenced by local policing culture and historical context. Spatial tactics of control are outgrowths of the militarization of policing and the securitization of urban space. Protest policing innovation under neoliberalism has led to new modes of tactical spatial engagement, working to strategically nullify political dissent through manipulation of urban space. This has significant consequences for urban design and emergent urban form, particularly through the professional practice of CPTED, or crime prevention through environmental design.
Hans Sagan holds a Ph.D. in Architecture from the University of California – Berkeley. His recent work investigates the role of urban space in protest policing. He teaches architecture and urbanism at the Academy of Art University in San Francisco.